Preservation of Interior Assets
Providing integrated business interior services to commercial end-users, facility/property managers, design firms, and general contractors.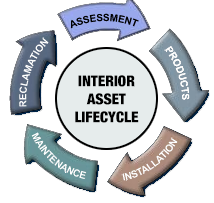 DFS services will extend the life-expectancy of our clients' installed flooring and upholstery products, thereby producing a lower amortized cost of ownership and reducing landfill. Our holistic approach to providing environmentally responsible and sustainable workplaces is evident in our long-term commitment to exclusively utilize green chemistries and sustainable cleaning processes. DFS provides a 100% guarantee that our cleaning process and chemistry will strictly conform to each manufacturer's maintenance and warranty specifications.
For over 60 years DFS has been a leading national provider of services that utilize both proprietary and industry-leading processes which combine to deliver healthy, attractive, and sustainable workplaces.
Our experienced and proven management team share a common goal with our trained and certified Technicians: to meet and exceed all our clients' expectations.